Schedule a Free Consultation
50% OFF Installation + 18 Months No Money Down, No Interest, No Payments!
Schedule a Free Consultation
50% OFF Installation + 18 Months No Money Down, No Interest, No Payments!
We offer a wide selection of solutions for your bathroom remodeling needs as your local luxury bath contractor. You can also enjoy a complete installation of your new Luxury Bath system in as little as one day, from start to finish. All of our products are infused with Microban® protection, which actively inhibits mold and mildew from reproducing. You can count on Luxury Bath for the beautiful, affordable bathroom you've been looking for.
No matter what the size, shape or level of wear and tear in your current bathroom, the team at Luxury Bath of Delaware can perform a professional, affordable bath to shower conversion in less time than you thought possible. Our acrylic bath and shower systems, replacement bathtubs, walk-in tubs and wall surrounds are guaranteed to last for many years to come and come in a variety of colors, styles, and configurations. With so many options, it's easy to create the bathroom you've always wanted—without breaking the bank!
With more than two decades of experience in bath to shower conversions, Luxury Bath is the only company to call for your bathroom remodeling needs! Call us today for more information and to plan your FREE, in-home consultation.
At D & C Bath LLC we have extensive experience with bathroom remodels. Our goal is to remodel your bathroom in a way that fulfills your desires, stays within your budget and projected timeline.
Our design team will work with you to help design a bathroom that exceeds your expectations. Whether you want a traditional, modern, rustic, or hybrid design, our team will work with you one on one to ensure your bathroom design is exactly what you want.
If you are interested in a bathroom remodel please fill out the free consultation form at the bottom of this page.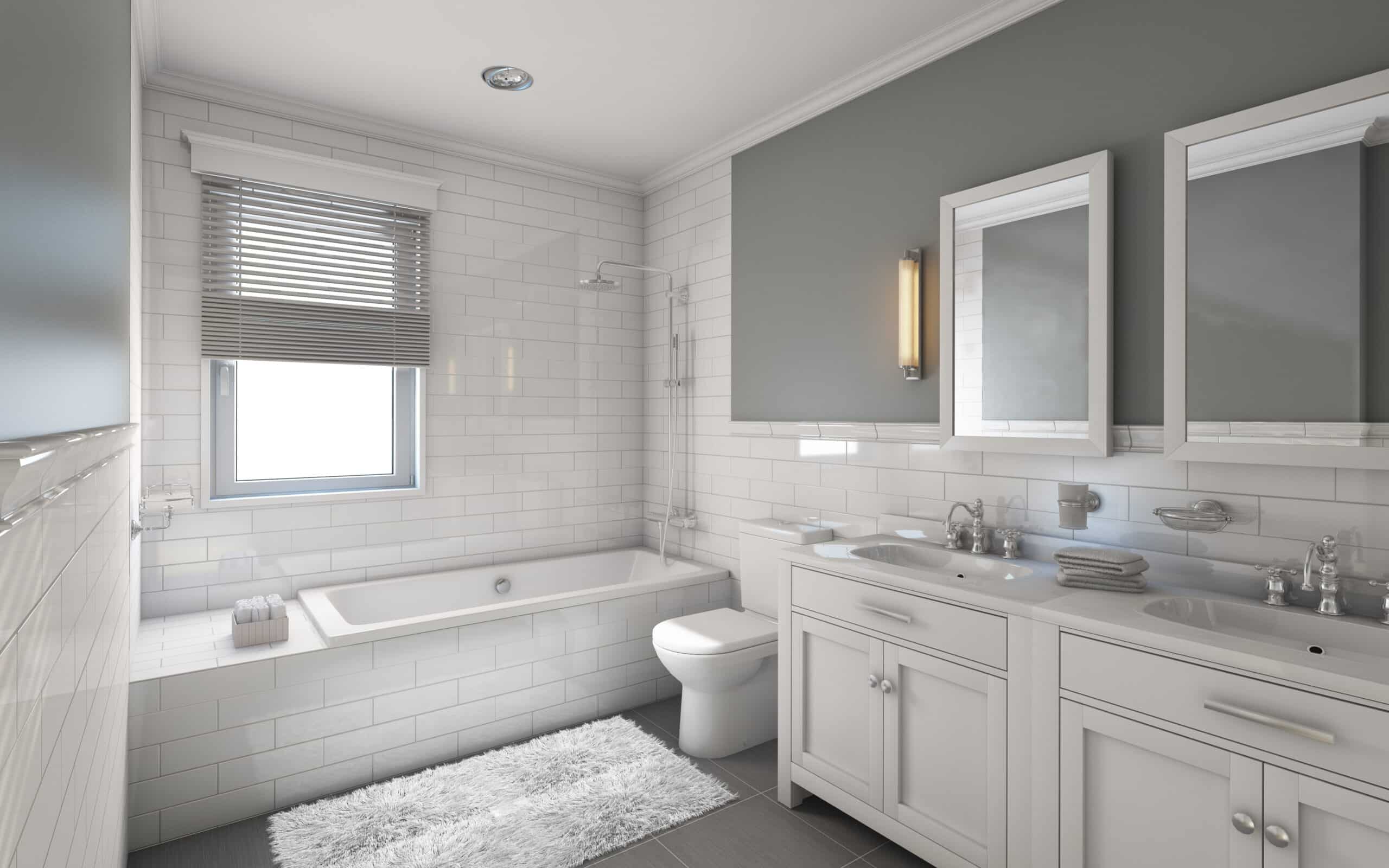 For more than 25 years, we have been the premier choice for new shower solutions that are as affordable and functional as they are aesthetically beautiful. All of our showers are custom designed and made to your detailed specifications. Luxury Bath showers are made from Lucite acrylic with Microban® protection, a Luxury Bath exclusive. This technology is incorporated into all of our shower and bath products, and continually defends against mold, mildew and other microbes from reproducing. This keeps your new shower cleaner and heathier, every day.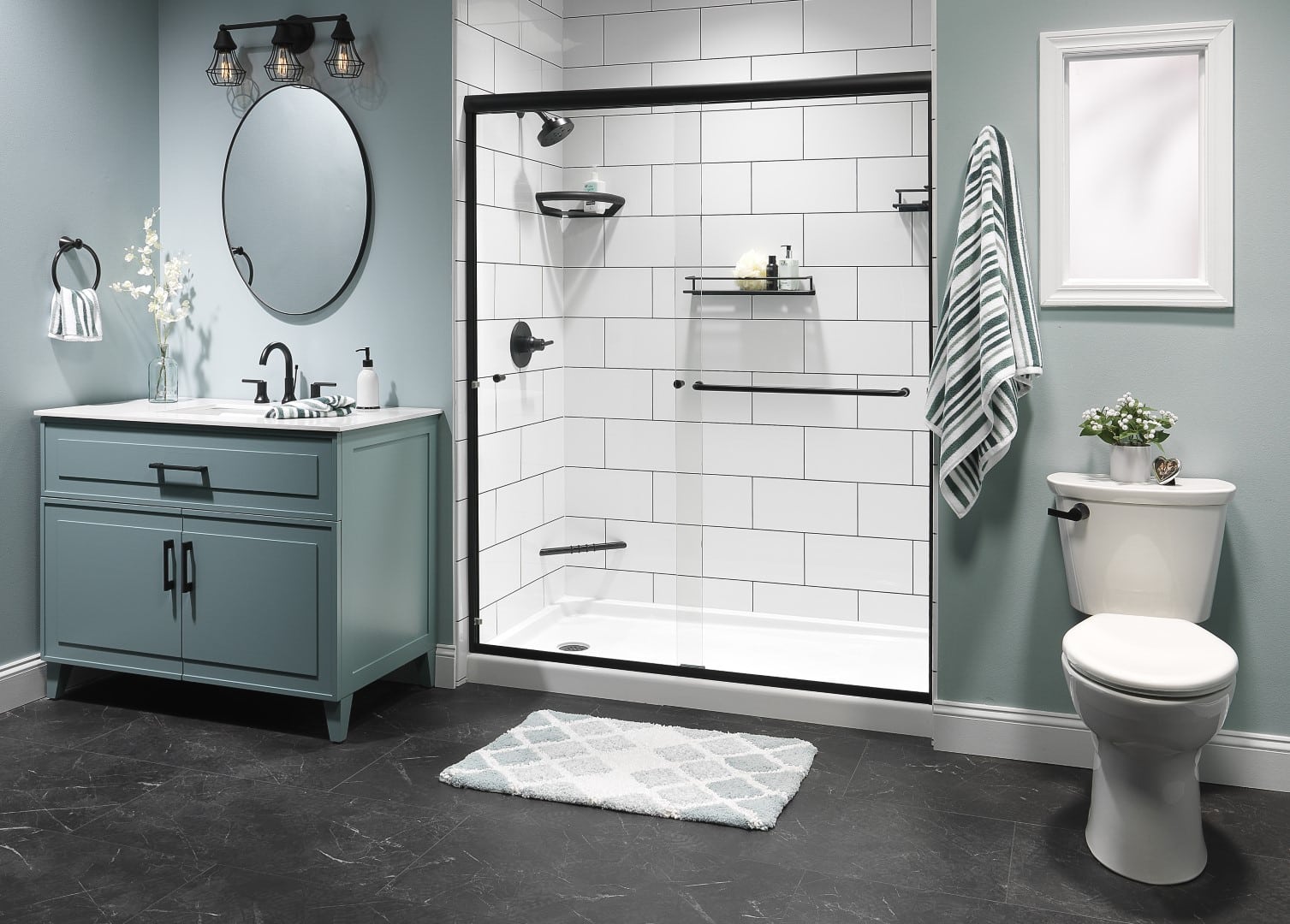 No matter what type of shower you're looking for, we have a wide variety of shower pan options, along with Barrier Free Showers for easy accessibility. Our Neo-Angle Pans offer a great space saving solution. No matter how much square footage you have to work with, our Luxury Bath shower will make your bathroom appear more spacious, reflecting light and enhancing your space.
Additionally, you can have peace-of-mind that all of our showers, surrounds and accessories are sealed with Lux-Bond®, the exclusive adhesive system that hardens like a rock for a permanent fit for years of worry-free enjoyment to come.
Don't put off the bathroom of your dreams any longer—call Luxury Bath today! We can help you design your new bathroom during our FREE, in-home bathroom remodeling estimate.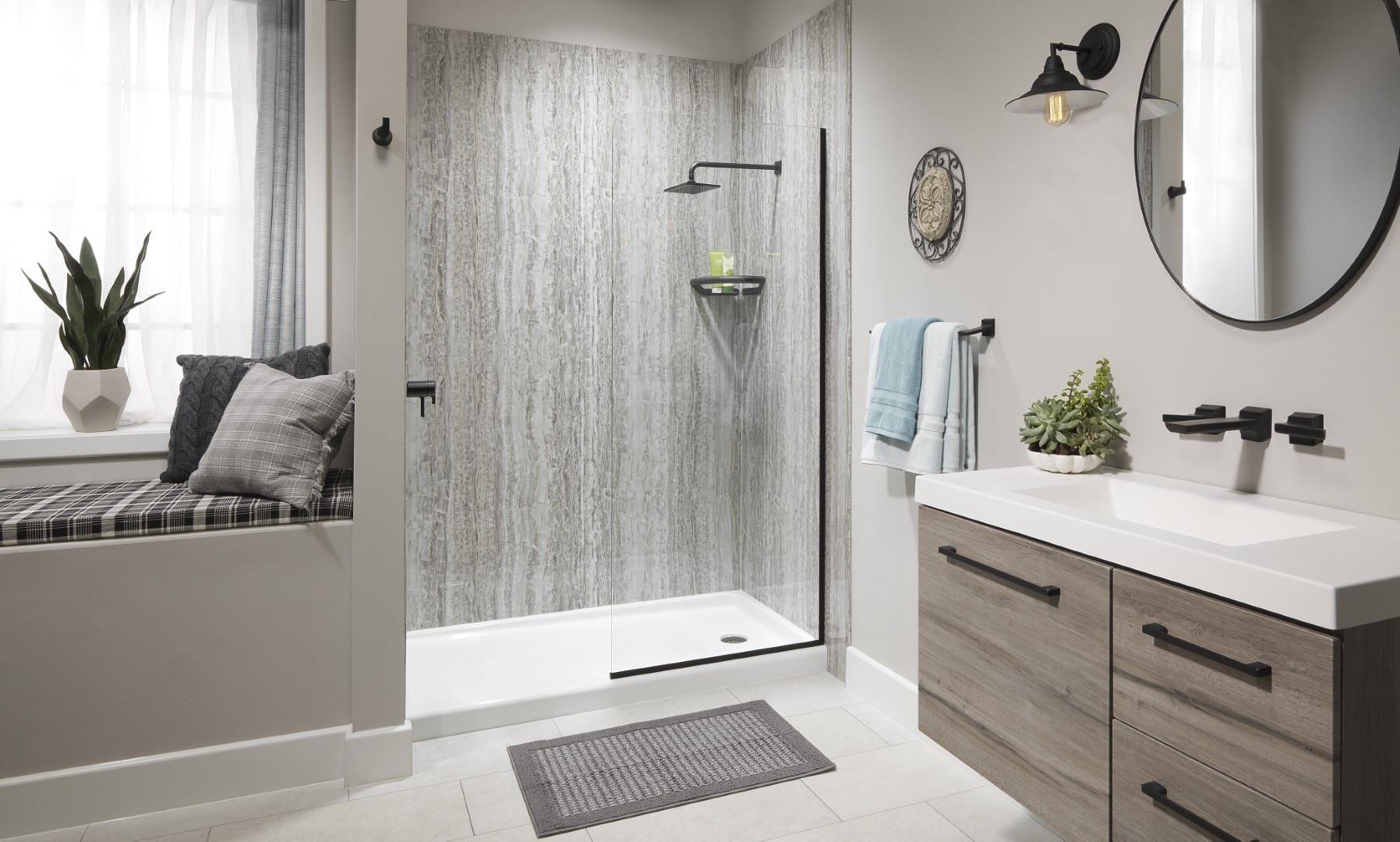 Bathtubs are good for soaking, but how often do you actually use them? In today's fast-paced society, most people prefer showers as opposed to extended time sitting in a tub.  A tub to shower conversion is not only a great way to update your outdated bath, but it also provides you with a lower maintenance, safer and more accessible bathing solution.
Additionally, all of our shower systems are created with Microban® protection, a Luxury Bath exclusive. Our high-quality acrylic showers are also custom-made to fit in the same space as your existing tub. With Luxury Bath, there's no need to take on a messy, expensive, time-consuming and stressful remodel. We have a unique system that gives you a beautiful new bathroom in about a day, at about half the cost of traditional remodeling! You also have your choice of shower hardware, shelving, niches, benches, foot shaving rest and other accessories to make you time spent in the shower more convenient, comfortable and pleasurable.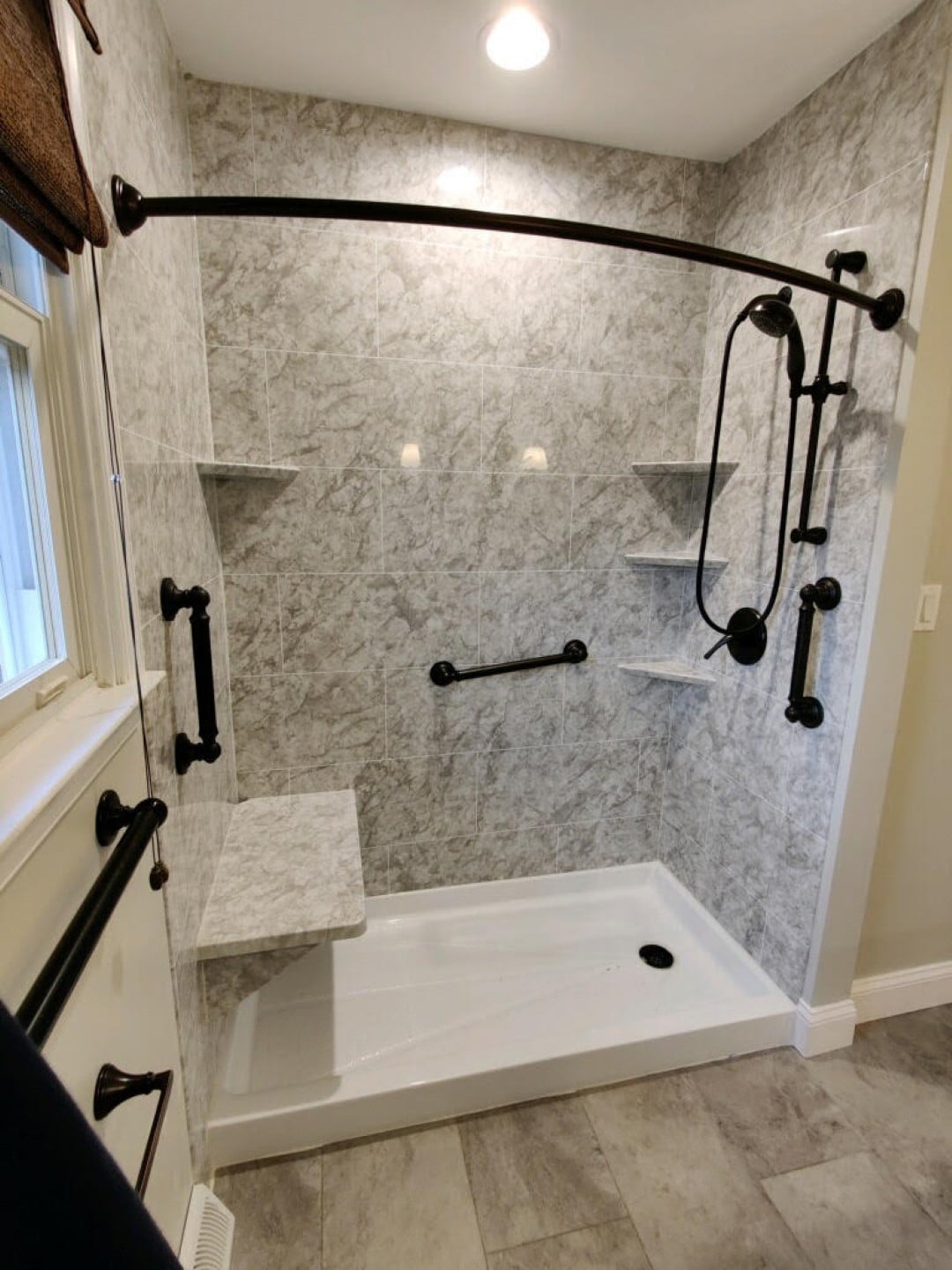 Do you have a stained, chipped or peeling tub bringing down the value of your bathroom in Delaware? If you've been putting off a much-needed update due to concerns over cost or inconvenience, it's time to learn more about Luxury Bath replacement tubs.
Sure, our replacement bathtubs are stylish, but even more impressive is the fact that our installers can replace your tub in as little one day! That means much less inconvenience for you!
Our tubs are already surprisingly affordable and at Luxury Bath of Delaware we offer flexible financing options that make it even easier to budget for the bathroom renovation you need!
Our installers are staff and not sub-contractors allowing us to schedule efficiently and maintain consistency with our installs.
Installing a replacement tub can change the overall feel of you bath space and recreate a space for you to enjoy and relax in. So schedule your Free In-Home Consultation today!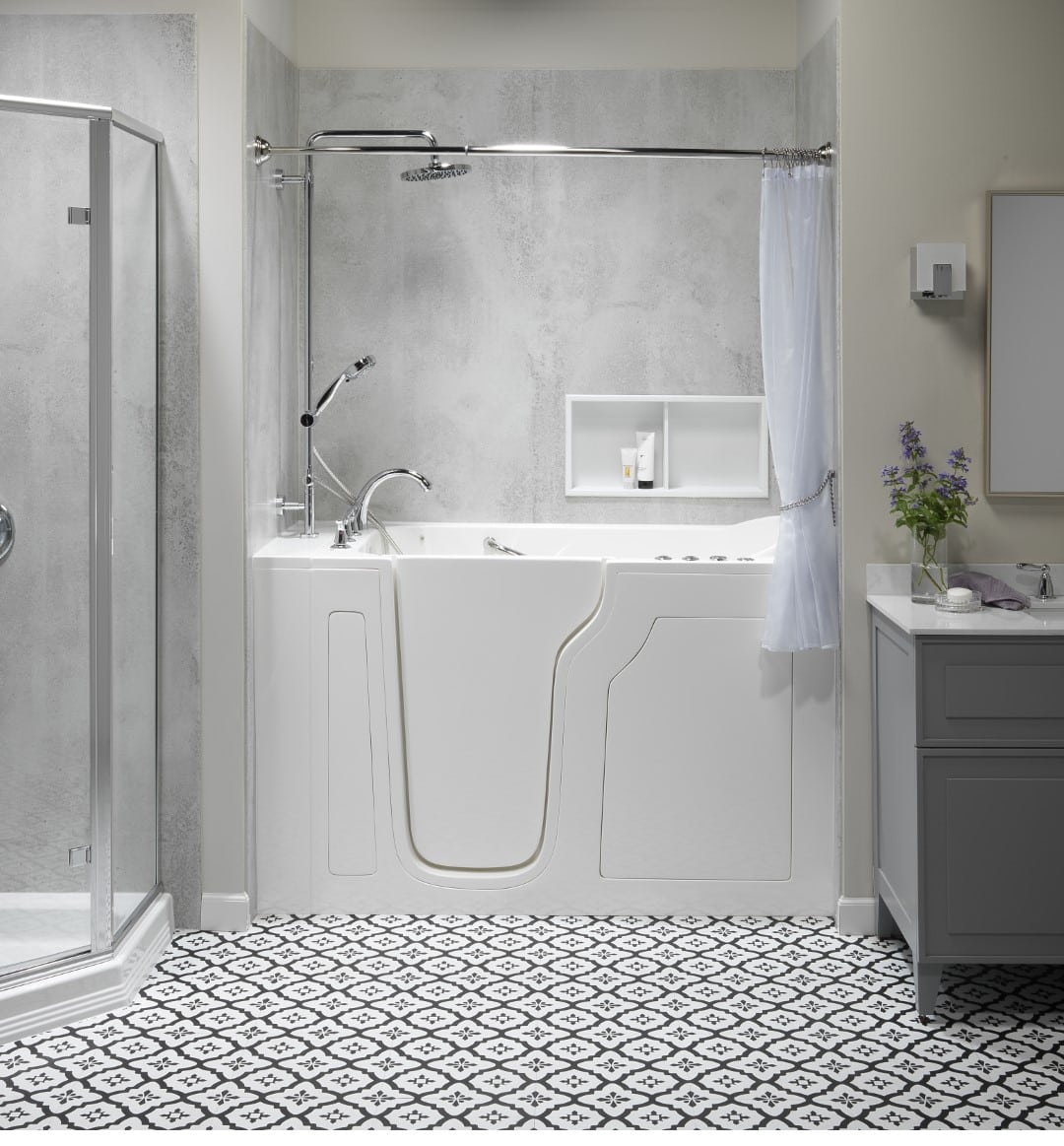 Schedule Your
Free Consultation
Delaware's Exclusive

Luxury Bath Technologies Dealer