Over the last decade, trends show that older adults plan to age in place. In fact, 77% of adults over the age of 50 say they want to stay in their homes for the long term. If you're planning to do the same, consider making your bathroom a bit safer by installing a walk-in tub. 
Not sure if it's the right choice for you? We're here to help. Keep reading to learn about the ways that a walk-in tub can make life a bit easier. 
It Helps You Maintain Your Independence 
As we get older, it's only natural to start to notice changes in how our bodies move. For many of us, that comes in the form of mobility restrictions which make it harder to stand for long periods of time. This can make it uncomfortable to bathe in a shower, to the point that you might need assistance.
By adding a walk-in tub to your bathroom, you can once again bathe comfortably, without needing help from anyone else. Thanks to its comfortable heated seat, you can sit while you bathe, helping you stay independent. 
It Helps You Stay Safe
Along those same lines, a walk-in tub can also eliminate some of the safety risks of bathing. When you have a traditional bathtub or shower, you usually have to step over some type of ledge to climb inside. Since a walk-in tub has a sealed door instead of a ledge, this reduces the risk of tripping and falling. 
Walk-in tubs also have additional safety features you can add, like grab bars and non-slip flooring to help you stay safe while you bathe. By making your bathroom safer, you can have peace of mind that you won't have to worry about a dangerous accident.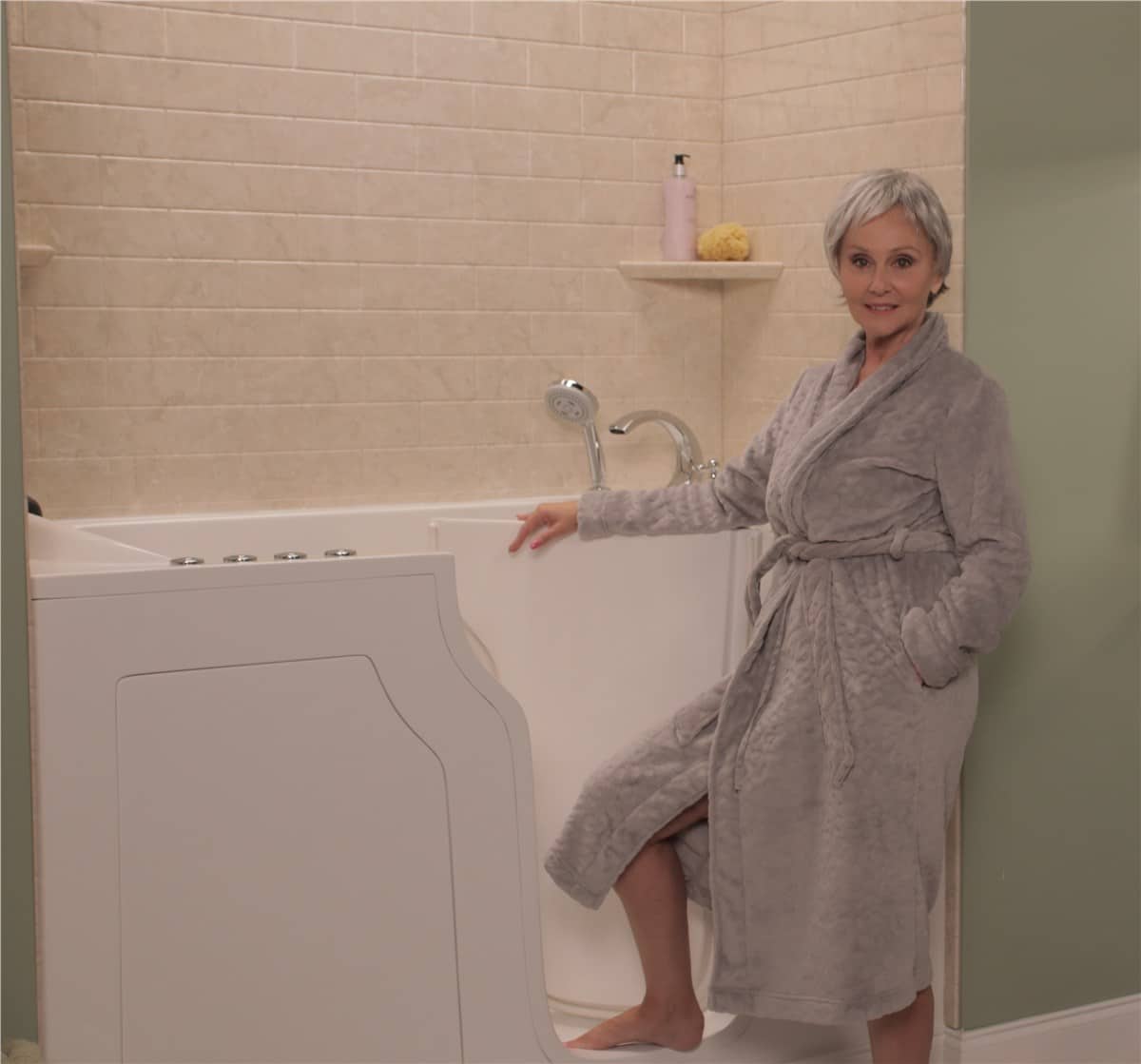 It Can Soothe Your Pain
One reason homeowners of all ages love our walk-in tubs is that they come with built-in hydrotherapy jets. When you fully immerse yourself in a walk-in tub and turn on the jets, you'll get to experience the benefits of hydrotherapy for yourself. More specifically, you might notice relief from arthritis, joint, and muscle pain. 
It Might Help You Get More Sleep
If you have trouble sleeping each night, a walk-in tub just might be a solution that can help you get more shut-eye. Relaxing your body and your mind can make it easier to fall asleep, and what better way to relax is there than by taking a warm bath?
If you get into the routine of taking a nightly bath, you might notice that your mind feels calmer and your body feels more relaxed and you might start to fall asleep faster. While no tub can completely cure sleep disorders, taking a bath can help you prepare your mind and body for sleep. 
Experience the Benefits of a Walk-in Tub for Yourself
Now that you know more about how a walk-in tub can make your life easier, why wait any longer to get one of your own? The D&C Bath team proudly offers high-quality walk-in tubs for homeowners in the greater Wilmington area. To learn more and request a free consultation, contact our team today!